Home - OEM Parts - Repairs - Contact
Applied Materials Ion Implanters
OEM Replacement Parts, Spares and Repairs
FDT Ltd
As an OEM supplier to Applied Materials UK for nearly 25 years we have detailed experience of many parts used in their implanting machines as we designed and manufactured them specifically for Applied Materials.
---
Universal DAQ 0660-00633
Improved replacement for all DAQ types
This is a 'form, fit and function' replacement for all Applied Materials DAQs, but with may performance improvements.
Totally re-designed with modern components.
Proven improvements to machine accuracy, with 200+ in service.
---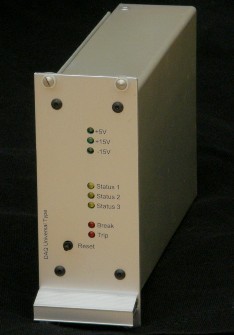 8 bit ADC now linear to 0.5% and accurate to 1%

12 bit ADC two bit over-sample with notch filters for 50 & 60Hz

All converters are lower noise for stable readings

Digital outputs more robust, with better VOL

Digital inputs are identical to previous versions

Fibre optic inputs protected from over driving

Lower power consumption

100% software and firmware compatible

---
Associated Part Numbers: 0660-00600 9090-01176
---
If you require more information about our products and services, please call the number below, or email us.
FDT GB Ltd, Unit A, Madam Green Buisness Centre, High Street, Oving, Chichester, W. Sussex, PO22 2DD
Tel: 44 (0) 1243 544014
Email: sales@fdt.co.uk
---
Click Here - To go to the Home Page | Click Here - To go to the main FDT site
Updated 24 March 2106
---